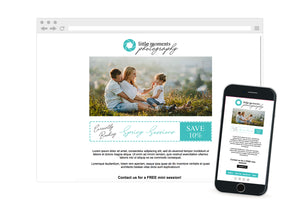 Taylor George Designs
Newsletter PSD & HTML Email Template
Regular price
$5.00
Sale price
$20.00
Sales Newsletter HTML Email Template - PSD Html Email Template - Email Template - Mobile Email Template - Automatic Download - Automatic Download
This is an Automatic Download for a Newsletter Email Template.
• PSD file
• HTML file
Add your own logo or modify this one, change colors, links & content, using photoshop, dreamweaver, notepad, mailchimp (paid version) or any other program you choose. To edit the copy & links in the html file, you will need to have an understanding of html or access to the paid version of mailchimp, where you can create/upload custom templates.
This html email template, scales and is responsive from desktop to mobile so it displays your content according to your customers device.
HOW THIS WORKS:
1. Purchase This listing
2. Once Payment has been processed, you can find your file under your Profile > Purchases
NEED US TO MAKE THE EDITS?
▶ Contact Us for an Add-On Listing
---
More from this collection